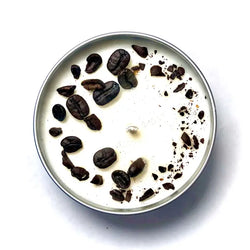 No Ennui
The Barista Candle
 Hand-poured soy candle: with scents reminiscent of your favorite coffee shop: with coffee, cinnamon, nutmeg, vanilla, and notes of honey, dressed in whole and ground coffee beans. Three tin sizes available with round brand label. Made with soy wax, cotton wick and phthalate free fragrance.
4 oz. Tins measure 2.4 inches wide and 1.8 inches tall. 
keep candle free of debris and wick trimmings. Most or all of the embellishment decor may need to be removed before burning, especially those pieces closest to the wick. Trim wick to 1/8-1/4 inch before each use. Never leave burning unattended or within reach of children or pets.