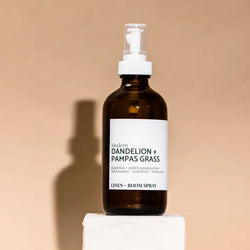 Modern Makers Provisions
Dandelion + Pampas Grass Linen & Room Spray
Dandelion + Pampas Grass has notes of: dandelion + golden pampas grass + field pansies + grapefruit + lemon zest. This scent reminds us of longer days + sunny skies - with dandelion fluff + tall wild grass swaying in the wind.
A little about our linen + room spray:
Net wt. 8 oz // 8.5 oz. bottle // Net wt. 2 oz // 2 oz bottle 

Amber glass bottle with fine mist sprayer

Eliminates odors while leaving a great scent behind!

To use: spray 3 or 4 pumps to freshen up any space + spray things like pillows, curtains, closets/drawers, pet bedding, or use in the car!

Larger room/areas use 4-5 pumps as a room spray to transform any space. 
Keep out of reach of children + pets.
If settling occurs - it's normal - just give a little shake.
Do a quick patch test on fabric - just to be safe!
Ingredients: distilled water, isopropyl alcohol, surfactant, fragrance. (8.5 oz)