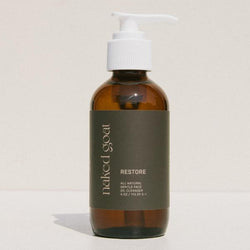 Naked Goat Soap Co.
Restore Face Cleansing Oil
Daily impurities are gently wiped away with our velvety smooth oil cleanser. 
The theory behind oil cleansing is that oil combats oil to remove daily debris, makeup, and impurities. It clears a path for soap to do its job and actually cleanse your skin.

Our cushiony signature blend is topped with warm notes of Frankincense (a natural astringent that is known to help tone skin, combat age spots, and improve elasticity).
RESTORE can stand alone as a daily cleanser or can be paired beautifully with EDEN for the most heavenly double cleansing experience. 

USAGE: Dispense 1 pump into clean hands. Massage oil into face and neck. Take time to connect to yourself while removing makeup and debris. Wipe away with a warm damp cloth. Follow with EDEN for the double cleansing method.