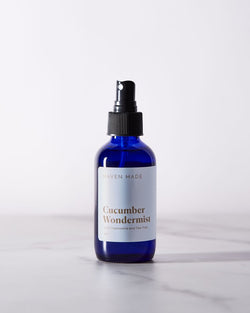 Maven Made
Cucumber Wondermist
Say hello to our newest hydrating facial mist. Think of it like green juice for the face.
This antioxidant-rich mist combines refreshing plant hydrosols and extracts for a sensory experience to prepare skin for moisturizing. Cooling cucumber and calming chamomile tames redness and supplies skin cells with antioxidant-rich hydration while bacteria-fighting tea tree helps reduce and fight acne and inflammation.
We've made this product simple to use and easily adaptable to any skincare ritual. Use as a first step before moisturizing (it helps improve absorption of products following the Wondermist), as an after sun spray, or a calming mist to relieve acne or inflammatory congestion.
The smell? Herbal and refreshing, slightly sweet (from the chamomile) and medicinal (from tea tree). Let this one settle on the skin for a few minutes for the crisp and cucumber notes to come through.
INGREDIENTS
Cucumber distillate* helps reduce excess sebum (oil), softens skin and reduces free radical damage, specifically UV damage

Chamomile distillate* soothes sensitive skin and fights inflammation

Rose distillate* helps prevent cellular damage, moisturizes skin and relieves sunburn pain

Tea Tee distillate gentle astringent properties tighten skin, fight acne and soothes itchy skin

Cucumber Extract strengthen skin cells, reduce puffiness and encourages cellular repair

Lactobacillus Ferment natural plant-based preservative and skin conditioner

*certified organic | all ingredients are 100% plant-based