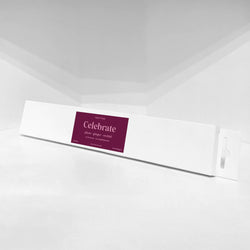 Ghost Poppy
Celebrate Incense
Life is full of moments that call for celebration. Whether it's a birthday, an anniversary, a personal achievement, or just making it through the day, taking the time to honor these milestones can bring a sense of fulfillment and joy. Scents of Plum, Ginger, and Orchid will make every day a celebration.
Each package contains 10 sticks. Incense sticks measure approximately 11" long and burn for about 1 hour.
Top: Plum, Ginger, Orchid
Middle: Pink Peppercorn, Ylang Ylang, Clove
Base: Amber, Patchouli, Sandalwood, Vanilla
This charcoal-based Incense is hand-dipped using our fragrance oils and dipropylene glycol (DPG), a synthetic base commonly found in body care and home fragrance products.