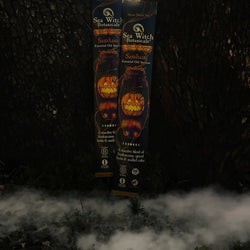 Sea Witch Botanicals
Samhain Incense
Samhain™ Seasonal All-Natural Incense, the newest signature scent is a macabre blend of frankincense, spiced herbs, and mulled cider.
Evoking the autumnal spirit of darkness, Samhain unfolds its alluring mystery in a deliquescent blend of seasonal spices. By the thinning of the veil, inhale the scent of a foggy evening spent trick or treating, traipsing over mossy gravestones, and telling folktales by the firelight.
Features:
Spiced and woody aroma profile with zero synthetic fragrances
Approximately 20 incense sticks (30 grams) packaged in a recyclable pillow box.