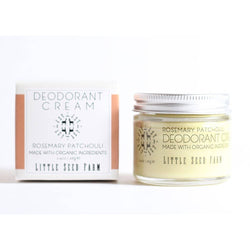 Little Seed Farm
Rosemary Patchouli Deodorant Cream
Stay smelling fresh all day long, naturally with our bestselling 24 hour formula.

Our aluminum and baking soda-free deodorant is made from nourishing and gentle organic ingredients. 
Packaged in a glass jar with recyclable metal lid. Includes a free Wooden Scoop Stick.
Ingredients - Organic Arrowroot Powder*, Food Grade Magnesium Hydroxide, Organic Coconut Oil*, Organic Jojoba Oil*, Organic Beeswax*, Organic Vegetable Glycerine* (non-GMO & Kosher), Organic Rosemary Essential Oil*, Organic Patchouli Essential Oil. *CERTIFIED ORGANIC INGREDIENT
CONTAINS: COCONUT, SOY
Pleasantly surprised
I received a sample on my first visit and I was not disappointed. I've grown up with extremely sensitive skin and have switched to fragrance free deodorants but they still had aluminum in them which means I would experience moderate irritation occasionally. Until I used this deodorant. Now I can't go back. The smell is refreshing and the texture is as smooth as silk. A little goes a long way as well, in both the scent throw and it's longevity. And that's coming from someone with a moderately active day job.