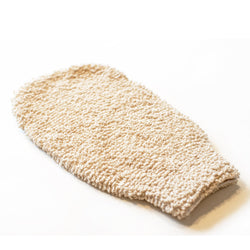 Our premium quality soft linen bath gloves are designed to provide you with a luxurious spa-like experience right in the comfort of your home. These gloves are perfect for gently exfoliating your skin, removing dead skin cells and revealing your body's natural, healthy glow.
To use, first wet your skin with warm water. Next, apply a few drops of your favorite body wash or lather up a bar of soap on the mitt. Add a little water to create a rich lather. Using circular motions, massage the mitt onto your skin, focusing on areas that are particularly dull, dry or damaged. The soft linen material of the gloves helps to gently exfoliate your skin, leaving it feeling smooth and refreshed.
These bath gloves are durable and long-lasting, making them a great addition to your daily skincare routine. Perfect for use in the shower or bath, they are easy to clean and can be machine washed for convenient maintenance.
Treat yourself to the ultimate self-care experience and unveil your body's natural, healthy glow with our soft linen bath gloves.