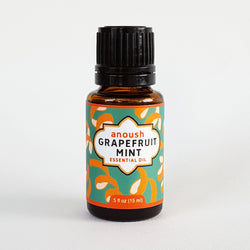 Anoush
Grapefruit Mint Essential Oil Blend
A light and invigorating blend of natural citrus and peppermint essential oils. A cool treat in hot weather, and a refreshing deodorizer! For use in an oil diffuser, a reinvigorating bath, or your favorite diy recipe.
Suitable for aromatherapy

Pure essential oils, no fillers or synthetics.

Handmade in small batches, fresh for you! 
One half-ounce glass bottle. Not for internal use.