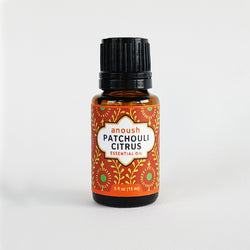 Anoush
Patchouli Citrus Essential Oil Blend
Make like a tree! Earthy patchouli and grounding cedar keep you rooted, while bright citrus fruits uplift your spirit to the sky. Add to your diffuser for a balancing, spicy scent.
Suitable for aromatherapy

Pure essential oils, no fillers or synthetics.

Handmade in small batches, fresh for you! 
 One half-ounce glass bottle. Not for internal use.
Less potent than Doterra
Similar oils to Doterra such as defense here is doterra's on guard but not as potent and cheaper and not able to the used internally. It still enjoy them in my diffusers:) and the prices. Wish there was a formula book like artnaturals & doterra make also.