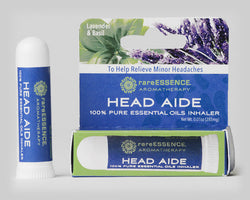 rareESSENCE
Head Aide Aromatherapy Inhaler
Our Aromatherapy Inhalers are a convenient way to experience the benefits of aromatherapy almost anywhere. These proprietary, therapeutic blends are fomulated and packaged for inhalation usage. The handy inhaler easily fits in a pocket, briefcase, or purse, so you have it when you need it most! After opening, each inhaler lasts three months or longer depending on usage and storage conditions.
This product does not claim to diagnose, treat, cure, or prevent any disease – including the coronavirus (COVID-19) – and has not been evaluated or approved by the United States Food and Drug Administration (FDA). Warning – the safety of these products has not been determined.
CONTAINS: Anthemis nobilis (Roman Chamomile), Citrus paradisi (Grapefruit), Lavandula officianalis (French Lavender), Citrus aurantifolia (Lime), Mentha piperita (Peppermint), Origanum majorana (Marjoram), Ocimum basilicum (Basil), Cymbopogon martini (Palmarosa), Mentha spicata (Spearmint), Simmondsia chinensis (Jojoba, organic), Tocopherol (Vitamin E)
Item I couldn't find in local stores
The basil lavender inhaler is my favorite defense against winter germs but I couldn't find it nearby. Very happy to find it at Mamie's and for less than any other seller. The shipping was still worth it.