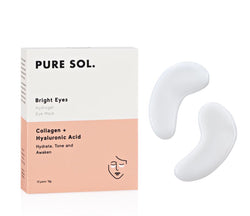 PURE SOL.
Bright Eyes Hydrogel Eye Mask
Soothing under eye hydrogel mask rejuvenates the delicate eye area, reducing the appearance of fine lines and wrinkles. Collagen regenerates, hyaluronic acid moisturizes, and hydrogel locks it all in.
Hydrate - Tone - Awaken
★ MOISTURIZES & HEALS: Hyaluronic Acid hydrates + plumps your under eye. Retinol smooths out fine lines. Reduces dry eyes and restores tired eyes. A great Anti-wrinkle + anti-aging solution.
★ANTIOXIDANT BOOST: Plum Seed Extract is anti-inflammatory and helps reduce the appearance of puffiness, dark spots, under-eye circles and dry skin. Hydrogel gel pads lock in all the beneficial ingredients leaving you feeling and looking more refreshed.
★STAYS IN PLACE: You are busy and that is why we formulated Pure Sol. Under Eye Gel Mask to not slip. Leave in the fridge for an extra cooling and depuffing. Keep a couple in your bag for when you need a pick me up on the airplane or car ride.
Hero Ingredients 
Co-Q10: Antioxidant to zap free radicals, helps to minimize fine lines and wrinkles
Hyaluronic Acid: Restores Moisture. Holds up to 1000 times its weight in water.
Grape Seed Extract: Antioxidant to help reduce dark circles and puffiness while hydrating the delicate eye area.
Allantoin: Hydrating, soothing, calming and brightening.
Plant Collagen:  Naturally Boosts your skin's collagen, reduces the appearance of wrinkles and fine lines, increases hydration and smoothness. 
Vitamin C: helps repair free radical damage, brightens the skin and helps fade dark spots. stimulates collagen production, improving the skin's texture and quality. Helps reduce the appearance of under eye circle
Rose Essential Oil: Reduces puffiness, dark circles, and makes skin taught.
How to Mask
After cleansing, remove the patch from its packet and place under each eye for 15-30 minutes. Discard patches after use and pat in any excess formula. Use as needed for best results.
 Beauty Tips:
*Keep in the fridge for a cooling boost and say hello to deep hydration.
*Apply eye masks before starting eye makeup. The mask will catch any loose eyeshadow and prepare the under-eye area for concealer.
Full Ingredients list: 
Aqua, Glycerin, Hydrolyzed Collagen, Aloe Arborescens Leaf Extract, Ascorbic Acid, Vitis Vinifera (Grape) Seed Extract, Ubiquinone (CO-Q10), Tocopherol, Allantoin, Sodium Hyaluronate (Hyaluronic Acid), Potassium Sorbate, Rose Essential Oil