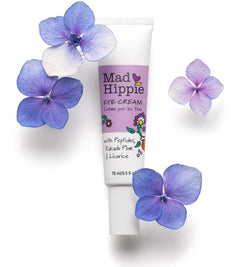 It is often said that the eyes are the windows to the soul...unfortunately, they are also the first area to really show our age.  From the dreaded crows feet to those tiring bags under the eyes, uniting the power of peptides & antioxidants, including niacinamide, this product packs a punch. 
Matrixyl Synthe '6 – Advanced peptide with skin rejuvenating benefits.

Regu-age – Peptide complex designed to address many of the esthetic issues related to the skin directly around the eyes.

Syn-Eye - Peptide designed specifically to improve the appearance of the under eye region.

Niacinamide - A powerful B vitamin & antioxidant that helps fend off signs of aging.

Hesperidin - A brightening plant flavonoid.

Kakadu Plum - One of nature's highest concentrations of vitamin C, kakadu plum works to brighten the appearance of the skin.

Licorice Extract - rich in flavonoids, this skin nourishing ingredient is helpful with under eye discoloration.

Pomegranate - Potent antioxidant that is a high source of ellagic acid.

Vitamin C - Powerful antioxidant that helps brighten and smooth the skin's appearance.

Caffeine - Energizes the skin and helps with under eye specific skin concerns.

Vitamin B3 - Helps even skin tone & rejuvenate.

Argan Oil - Excellent source of vitamin E, essential fatty acids & phytosterols. Works to moisturize & soothe the skin.

White Tea – Delicately harvested new growth tea leaves rich in antioxidants.

Ceramide - Forms a thin lipid barrier that holds in moisture, while protecting & nourishing the skin.

Vitamin E - Powerful antioxidant with skin rejuvenating benefits.
Ingredients - Deionized Water (Aqua), Caprylic/Capric Triglycerides, Shea Butter (Butyrospermum Parkii), Niacinamide, Syn-Eye (Peptide: Palmitoyl Tripeptide 5-Panthenol-Sodium Hyaluronate), Glyceryl Stearate, Glycerin, Matrixyl Synthe '6 (Peptide: Glycerin-Aqua-Hydroxypropyl Cyclodextrin-Palmitoyl Tripeptide-38), Polyglyceryl-2 Stearate, Glyceryl Stearate, Stearyl Alcohol, Regu-Age (Peptide: Glycine Soja [Soybean] Protein-Hydrolyzed Rice Protein-Superoxide Dismutase), Vitamin C (Sodium Ascorbyl Phosphate), Squalane (vegan), Caffeine, Hesperidin, Licorice (Glycyrrhiza Glabra Extract), Isopropyl Palmitate, Argan Oil (Argania Spinosa), Superox-C (Glycerin-Aqua-Terminalia Ferdinandiana (Kakadu Plum) Fruit Extract), Microcrystalline Cellulose (and) Cellulose Gum, Vitamin E (Tocopherol), Chamomile (Matricaria Recutita Flower Extract), Phenethyl Alcohol, Caprylyl Glycol, Ethylhexyl Glycerin, Pomegranate Seed Oil (Punica Granatum), Xanthan Gum, Camellia Sinensis (White Tea) Extract , Steam Distilled Citrus Aurantifolia (Lime) Extract, Ceramide 3