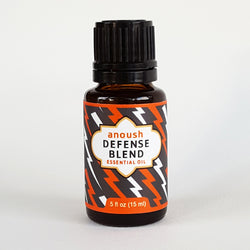 Anoush
Defense Essential Oil Blend
According to folklore, this classic medieval recipe was said to protect its wearers from the Black Plague. Updated for modern use, this potent, fragrant blend of oils is great for all odd jobs of cleaning and deodorizing, especially when immune support is needed.

Suitable for aromatherapy

Pure essential oils, no fillers or synthetics.

Burn in a diffuser to clean and scent indoor air.

Add a few drops to your laundry load.

Use sparingly on a rag to wipe down high traffic areas like doorknobs and bathroom sinks.

Pleasant cinnamon-lemon scent

Handmade in small batches, fresh for you!

One half-ounce glass bottle. Not for internal use.
Contains oils that are known to be common skin irritants; use topically with caution and proper dilution.