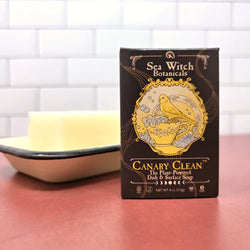 Sea Witch Botanicals
Canary Clean Dish & Surface Soap
Simplify Your Cupboard 
Trade the drippy plastic bottles full of synthetic nasties for a single, earth-made and earth-friendly bar that does it all! With Canary Clean, you get reliable cleaning power with no plastic packaging, no synthetic fragrance, no phosphates, no petroleum, no sodium lauryl sulfate, no colorants, and no need to send in a canary to test for toxins! All you'll need is a sponge and some elbow grease to get the whole kitchen spotless.
More Bang for Your Buck
When kept in a well-draining soap dish, your bar will last approximately 1-2 months. This of course depends on how clean you keep your nest, although you may find yourself wanting to clean more often.
How to Use Canary Clean for an All-Natural Clean
For cleaning dishes, wet a natural sponge and rub against the bar of Canary Clean, creating a rich lather. Scrub the dishes with the lathered sponge, going over tougher spots as needed. 
For tough pans, you can cut of a small chunk of soap and soak to help loosen debris before scrubbing.
For cleaning surfaces, lather Canary Clean on a wet wash cloth or sponge, then scrub where necessary. Add a little "elbow grease" for tougher stains. 
For cleaning glass water pipes, cut off a small chunk of soap and drop it in the pipe, fill with hot water and swirl. Let the mixture stand for at least 10 minutes, swirl, and pour out. Use a scrub brush and repeat as needed. 
All-Natural – No Phthalates – No Parabens – No Petroleum – No Synthetic Fragrances
Ingredients
Saponified Organic Coconut Oil (Cocos nucifera), Orange Essential Oil (Citrus sinensis), Kaolin Clay