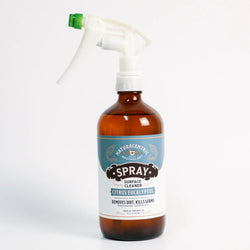 Naturacentric
Surface Cleaner Citrus Eucalyptus
Our all natural eco friendly disinfectant Surface Spray removes dirt, kills germs, freshens surfaces and also provides you with divine aromatherapy! We use 100% pure essential oils so you not only get a great smell but also the medicinal properties from plants.
16 fl oz (473 ml) glass bottle.
All Ingredients are naturally derived.
72% Iso Alcohol, Acidic PH 2.5 water and EO blend.
The properties of our simple ingredients pack a powerful punch when paired together.
72% Iso Alcohol kills bacteria
Acidic PH 2.5 water kills bacteria
Our EO blends have antibacterial, antimicrobial, anti-fungal and anti-viral properties.
Have Pets? Spray on couch and other materials to eliminate odors. Spray in bathroom to disinfect and add a pleasant smell to the John.