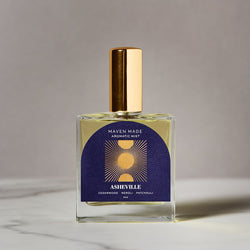 Warming and rich, Asheville captures what fall often smells like with notes of cedarwood, neroli, clove, patchouli and amber incense. This fragrance wears long and may surprise you as each layer of notes unfolds for a cozy aromatic journey.
Key aromas: cedarwood, amber, neroli and patchouli
Your nose might also pick of notes of balsam, leather, clove, cinnamon, balsam, orange and grapefruit.
Shake and spray directly on skin, in the air, on clothing or linens.
Crafted with organic cane alcohol and a blend of phthalate-free, toxin-free and carcinogen-free fragrance and essentials oils.
Mini mist is 7.5ml and large is 100ml.