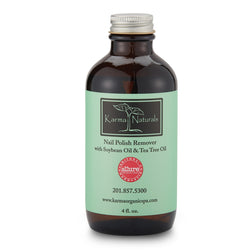 Karma Naturals
Tea Tree Nail Polish Remover
Guaranteed to be Soy Based, Non Toxic, Non Carcinogenic, Free of any Petroleum Ingredients, Derived from Farm Crops (supporting American Farmers), Packaged in 100% Recyclable Glass Bottles, and 4 Fluid Ounces. 
Ingredients 

- Tea tree essential oil. 
- Propylene carbonate, an odorless, colorless liquid used as a solvent. 
- Soybean oil methyl exter, used as a solvent in liquid separations. 
- Tocopheryl Acetate, also known as vitamin E. 
Note - This nail polish remover will not work on gel or acrylic treated nails.