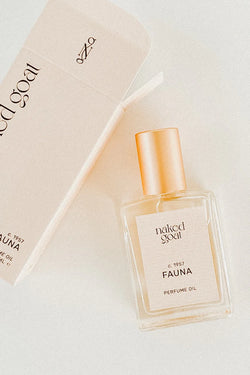 Naked Goat Soap Co.
Fauna Perfume Oil
Fauna c. 1957 is the sun, the moon and the stars shining a light to offer guidance and rest in the shadows. By nature, it's a familiar, animalistic accord pulling you close and calling for your return. Along the way, it's met by night blooming flora that dances free from form and unfolds into the soul soothing majesty of warm Olibanum.

Egyptian Musk | Night Jasmine | Incense
Apply to pulse points, behind ears and down the curve of your neck.
Our formulas are carried by organic coconut oil which absorbs quickly into skin, leaving behind only notes of your signature accord.
As always, our blends are alcohol free, phthalate free, paraben free & cruelty free. 
Glass Roller Bottle | 15ml