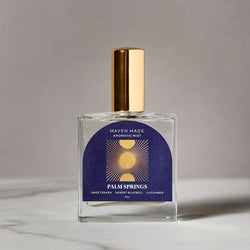 If this fragrance could be captured in a song lyric, it would certainly be Outkast's "I'm just so fresh, so clean. So fresh and so clean, clean." Palm Springs embodies that feeling when you get out of the shower with fresh and green notes of sweetgrass, desert bluebell, fresh cucumber and jasmine, this aroma may arouse feelings of wiping the slate clean, simplicity and renewal.
Key aromas: cucumber, sweetgrass, jasmine and bluebell
Your nose might also pick of notes of bamboo, green tea, musk and lemon.
Shake and spray directly on skin, in the air, on clothing or linens.
Crafted with organic cane alcohol and a blend of phthalate-free, toxin-free and carcinogen-free fragrance and essentials oils.
Mini mist is 7.5ml and large is 100ml.