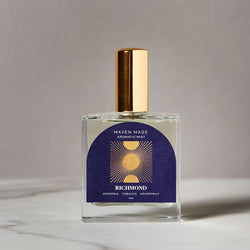 Paying homage to the birthplace of Maven Made, Richmond was created to take you on a sensory stroll through the River City. Inviting notes of sweet gardenia petal and pink grapefruit meet fresh tobacco and cannabis for a complex yet balanced aroma that feels light, romantic and modern.
Key aromas: gardenia, tobacco, grapefruit and cannabis
Your nose might also pick of notes of sandalwood, vanilla, rhubarb, agarwood and smoke
Shake and spray directly on skin, in the air, on clothing or linens.
Crafted with organic cane alcohol and a blend of phthalate-free, toxin-free and carcinogen-free fragrance and essentials oils.
Mini mist is 7.5ml and large is 100ml.