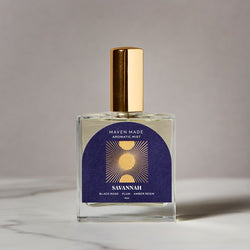 Sensual and intoxicating, Savannah's rich aromas invite you to slow down with romantic notes of black rose, amber resin, juicy plum and cedarwood. This aroma is best worn on date night (with yourself or others) misted on the pillow before bed or anytime you want to feel luxurious.
Key aromas: amber, cedarwood, rose and plum
Your nose might also pick of notes of peppercorn, vanilla, cumin and grapefruit.
Shake and spray directly on skin, in the air, on clothing or linens.
Crafted with organic cane alcohol and a blend of phthalate-free, toxin-free and carcinogen-free fragrance and essentials oils.
Mini mist is 7.5ml and large is 100ml.