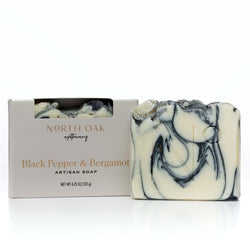 North Oak Apothecary
Black Pepper + Bergamot Bar Soap
Warm, Comforting & SPICY
Beautiful black swirls created with Charcoal are integrated into this creamy bar.
North Oak Apothecary soaps are handcrafted in small batches using organic ingredients. Naturally and gently cleanses without stripping moisture from your skin and packaged in 100% recyclable box.
Ingredients
*Denotes Organic
Sunflower Oil, *Fair Trade Ghanna Shea Butter, Coconut Oil, Palm Oil sustainably harvested, Castor Oil, Water, Sodium Hydroxide & Essential Oil & Charcoal.
Bergamot:  Relieves tension
Black Pepper:  Energizing