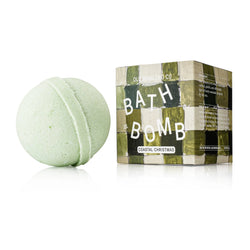 Old Whaling Co
Coastal Christmas Bath Bomb
Perfect for unwinding in the winter months, our Coastal Christmas Bath Bomb features a holiday blend of crisp winter air and frosted juniper.

Relax and soak with this bath bomb's festive fizz and holiday scent. Treat yourself to a holiday pampering with this cozy and comforting Christmas fragrance.
Our handcrafted bath bombs will leave your skin feeling moisturized and lightly scented. The soothing fizz and sea-inspired fragrance is perfect for a relaxing soak.
Our bath bombs are the perfect size for a single bath. Use caution when entering or exiting the tub, as the oils that make our bath bombs moisturizing, also make for a slippery tub.
All of our sea-inspired Bath Bombs are handmade using the following base ingredients:
Baking Soda
Citric Acid
Soybean Oil
Olive Oil
Epsom Salt
Distilled Water
Fragrance (Except Knot Scented)