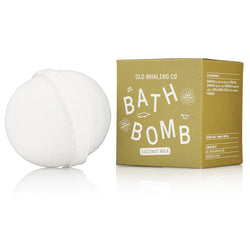 Old Whaling Co
Coconut Milk Bath Bomb
This scent features the warm, tropical aroma of coconut milk paired with splashes of tropical fruit and inviting florals. This creamy tropical scent isn't overly sweet, perfect for those who prefer a more subtle scent of summertime. Reminiscent of a relaxing getaway, Coconut Milk is a soothing escape from the everyday.
Handmade with baking soda, citric acid, epsom salts, olive, and soybean oil, Old Whaling Co. 8oz bath bombs will leave your skin feeling moisturized and lightly scented. This bath bomb's soothing fizz and sea-inspired fragrance are perfect for a relaxing soak, rejuvenating the senses and cleansing the skin.
Top: Coconut, Pineapple, Banana, Violet
Base: Vanilla, Sandalwood, Musk
Ingredients: Baking Soda, Citric Acid, Soybean Oil, Olive Oil, Epsom Salt, Distilled Water, Fragrance.