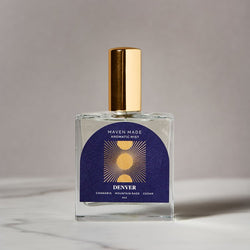 Woodsy, sharp and heady, Denver captures a unique combination of native Colorado flora. Be prepared for notes of marijuana (the good kind), mountain sage, cedar and agarwood with a touch of amber resin for sweet balance. Puff, puff, pass? Expect this one to smell like really good weed so if that's not your thing, we suggest passing.
Key aromas: cannabis, sage, cedar, agarwood, sage and amber
Your nose might also pick of notes of melon and musk.
Shake and spray directly on skin, in the air, on clothing or linens.
Crafted with organic cane alcohol and a blend of phthalate-free, toxin-free and carcinogen-free fragrance and essentials oils.
Mini mist is 7.5ml and large is 100ml.