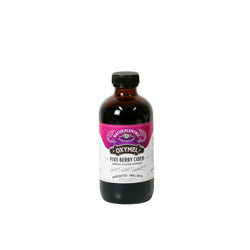 Naturacentric
Five Berry Cider Oxymel
Our Small Batch Hand Crafted Five Berry Cider Oxymel is a berry forward botanical concentration infused into Apple Cider Vinegar and sweetened with local raw Honey, packing a powerful punch with its immune boosting and general wellness benefits. The combination of medicinal herbs is sure to tantalize your senses.
TASTE is berry, tart, sweet and delicious and is our version of the traditional folk remedy that has been enjoyed for centuries as a healing tonic. 
HOW TO USE: Use it as you would apple cider vinegar! It makes an excellent addition to homemade salad dressings, in sauces, hot tea or hot water, soda water, mock/cocktails, Hot toddies, Mulled Wine, etc.
SERVING SUGGESTIONS: Serving Suggestions: Take 1-2 tablespoons daily as an immune system support and for general wellness. Feel free to dilute in a glass of cold or hot water or use as a salad dressing.
STORAGE: Refrigeration is not needed. We store ours in a dark cabinet.
INGREDIENTS: Organic Raw Unfiltered Apple Cider Vinegar (with the Mother), Locally sourced 100% Pure Raw Honey, Hibiscus, Elderberry, Holy Basil, Hawthorne Berry, Rose Hips, Schisandra Berry, Elderflower, Chamomile, Blackberry leaf, Raspberry leaf & Orange Rind. 
The meaning behind the name. This Oxymel features 5 berries: Schisandra Berry, Elderberry, Hawthorne Berry, Blackberry leaf and Raspberry Leaf.
Schisandra holds five distinct flavor properties: bitter, sweet, sour, salty and hot and this is why schisandra is sometimes called "the five-flavored berry." Beyond just how it tastes, its flavor components are important for understanding the way it works. In Traditional Chinese Medicine, schisandra's power comes from having properties from all five elements which means it works in multiple "meridians" within the body to restore internal balance and health.