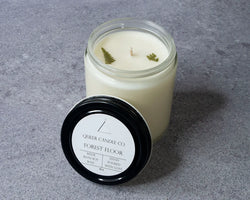 Queer Candle Co.
Forest Floor Candle
Our Forest Floor soy wax candles are hand poured, clean burning, and made in recyclable and reusable containers right in our workshop.
Forest Floor scent profile:
- Soothing and botanical bamboo foliage mingles with aloe to create a soothing, fresh fragrance
- Base notes of freshly cut grass brings in dewy green tones
- Topped with pressed ferns
Burn times: 8oz: 40 - 50 hours. For best candle burn and longest life we recommend burning for between 1 and 3 hours at a time.