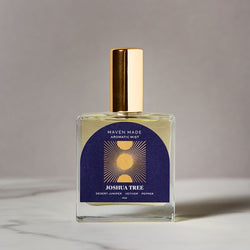 Natural and invigorating, Joshua Tree captures earthy notes and wears so beautifully, be prepared to be asked, "what are you wearing?". With grounding notes of desert juniper, vetiver root, pink pepper, and a touch of patchouli, this vibrational fragrance may invoke feelings of renewal, expansion, and grounding.
Key aromas: pink pepper, juniper, vetiver and patchouli
Your nose might also pick of notes of clove, sandalwood, lavender and amber.
Shake and spray directly on skin, in the air, on clothing or linens.
Crafted with organic cane alcohol and a blend of phthalate-free, toxin-free and carcinogen-free fragrance and essentials oils.
Mini mist is 7.5ml and large is 100ml.