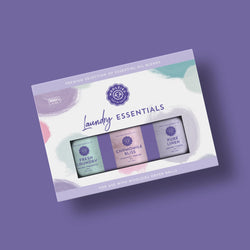 Woolzies
Laundry Essentials
Our Laundry Collection Brings you three unique blends of our 100% pure essential oils, designed to use with Woolzies Dryer Balls to perfectly scent fresh laundry or add to scent-free liquid or powder detergents for a naturally fresh-smelling cleaner.

Suggested use: When your laundry is completely dried, add 3-6 drops of desired essential oil to the dryer balls, toss them back in the dryer, and run on air fluff (non-heated) cycle for 10 minutes. You will find your laundry smelling and delightful.
Fresh Laundry - Tea tree, Peppermint, Spearmint, Eucalyptus, Pine, Lime and Lemon 
Aroma: Fresh Citrus

Chamomile Bliss - Chamomile, Magnolia, Basil, Eucalyptus, Benzoin, geranium and Jasmine Essential oils.
Aroma: Floral

Pure Linen - Lavender, Lemon, Cedarwood, Citronella, Vanilla, Rosemary and Myrtle.
Aroma: Warm & Fresh.

These Essential oil blends are 100% natural, vegan, and contain no toxins, synthetics, fragrances, parabens, or dyes.