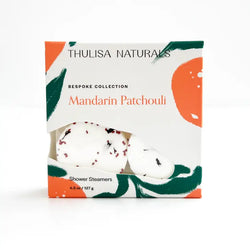 Thulisa Naturals
Mandarin Patchouli Shower Steamers
Transform your shower into an aromatic spa experience with our Mandarin and Patchouli shower steamers. Breathe in the top notes of citrusy Mandarin and base notes of woodsy patchouli with a hint of floral. This scent helps you feel energized and grounded. The clear bags we use to package our shower steamers and fizzy bars are certified compostable.
Each box contains 4 shower steamers.  These are limited edition shower steamers, and we only have a limited quantity. All our shower steamers are handmade in the USA with love and care and are Leaping Bunny certified.
Tips to make your shower steamer last longer: 1. Get your shower nice and steamy 2. Turn your exhaust fan off 3. Sprinkle a few drops of water onto the shower steamer to activate it, then place your shower steamer in the corner of your shower.