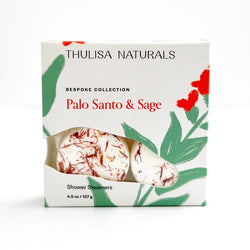 Thulisa Naturals
Palo Santo & Sage Shower Steamers
Transform your shower into an aromatic spa experience with our grounding Palo Santo and Sage scent blended with earthy cedarwood and clove. This scent is calming and warm. Perfect for the Fall season. Each box contains 4 shower steamers.
Each shower steamer tablet lasts approximately 2 showers.
All our shower steamers are handmade in the USA with love and care and are Leaping Bunny certified.
INGREDIENTS:
Bicarbonate (Baking Soda), Citric Acid, Zea Mays (Corn Starch), Contains Essential Oils of Clove Bud, Sichuan Pepper, Cypress, Vetiver, Cedarwood, Sage + Patchouli, Coconut Oil (Capric Triglycerides), Natural Fragrance
Tips to make your shower steamer last longer:
1. Get your shower nice and steamy
2. Turn your exhaust fan off
3. Sprinkle a few drops of water onto the shower steamer to activate it, then place your shower steamer in the corner of your shower.