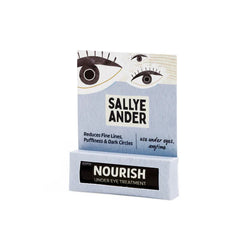 SallyeAnder
Nourish Under Eye Treatment
Revitalize and transform your eyes and face with the highest quality natural ingredients.
The skin beneath your eyes is some of the tenderest on your body. It's thin, sometimes almost translucent. So when you are sleep-deprived or stressed, it's the telltale place where the skin becomes paler, duller, and the tissues and blood vessels under your skin begin to show. Fluid can build up under your eyes, making them look puffy. 
In addition to our signature butter blend of shea, cupuacu and cocoa butter, orchid oil has the most remarkable properties for delicate skin. It contains calcium, magnesium, and zinc, and it not only moisturizes but also increases the skin's immunity, reduces fine lines, and soothes gently and thoroughly.
Ingredients - shea butter, cocoa butter, cupuacu butter, orchid oil, meadowfoam, grapseed oil, rosa mosqueta, centella asiatica.