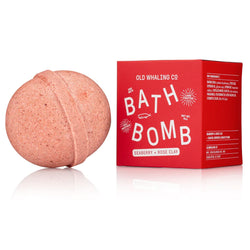 Old Whaling Co
Seaberry & Rose Clay Bath Bomb
Seaberry & Rose Clay is a blend of ripe wild berries, juicy summer plums, and notes of warm vanilla. This summery scent is a year-round favorite that perfectly blends the natural fruity sweetness with the soothing scent of vanilla and light floral base notes. The rose kaolin clay in this bath bomb absorbs excess oil while gently exfoliating for a deeper cleanse.
Handmade with baking soda, citric acid, epsom salts, olive, and soybean oil, Old Whaling Co. 8oz bath bombs will leave your skin feeling moisturized and lightly scented. This bath bomb's soothing fizz and sea-inspired fragrance are perfect for a relaxing soak, rejuvenating the senses and cleansing the skin.
Top: Raspberry, Orange, Plum
Base: Strawberry, Musk, Vanilla
Ingredients: Baking Soda, Citric Acid, Soybean Oil, Olive Oil, Epsom Salt, Distilled Water, Fragrance, Polysorbate 80, Cosmetic Color (Red 40 Lake), Rose Kaolin Clay.