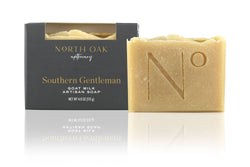 North Oak Apothecary
Southern Gentleman Bar Soap
This is a blend of Bay rum, Lime & Woods.  I feel this is what Rhett Butler would have smelled like.  Most likely unknown to the majority. 
Fair Trade Shea Butter and Goat Milk for this soap.
Men need moisturizing also….
The nourishing benefits of collagen-packed Shea Butter and Goat Milk is a gentle cleanser.  It helps to restore lost moisture in the skin.
AND THIS PRODUCT IS NOT VEGAN DUE TO MY USE OF GOAT MILK