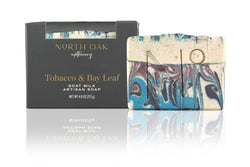 North Oak Apothecary
Tobacco + Bay Leaf Bar Soap
This is an amazing combination of Tobacco, Bay Leaf, Fir Needle, Cedarwood & Bergamot.
Yes, you get the scent of Tobacco and herbs and being outdoors.
Loads of lather and blended with Goat Milk.
Goat Milk is considered a gentle cleanser with moisturizing qualities, helping to restore lost moisture in the skin.
The two main nutrients, effective to fight against the sign of aging are Vitamin A and Lactic Acid – both of which are present in Goat Milk. The combination of Alpha-hydroxy, lactic, and caprylic can kick start your elastin production, leading to a brighter and younger skin tone.
THIS PRODUCT IS NOT VEGAN DUE TO MY USE OF GOAT MILK IN THE PRODUCT